Aime la Plagne
France The French Alps, France
Resorts with children's/teens' clubs: Families, couples, friends
Advanced skiing
Ski in ski out
Children & Teens
Our Resort welcomes children of all ages, with children's club facilities for the various age groups, run by dedicated G.O®s(1).

● Dedicated areas, specifically designed for their needs
● Equipment designed with a view to comfort and safety
● Opening hours that allow parents to make the most of their day's skiing and their evening
● A structure that combines innovation with 40 years of experience, based on the respect of each child's desires and sleeping patterns
● G.O®s with a passion for their job
● Skiing or snowboarding lessons by professional ski instructors
● The opportunity to take the official skiing or snowboarding diplomas
● Numerous other activities for all ages: creative activities and games

For information: the children's clubs are open all week, except Sundays.

(1)In France, G.O®s with a BAFA (State diploma for youth group leaders) or childcare qualification, depending on the age of the children; in other countries, an equivalent local diploma or relevant experience.
---
Childcare
Mini Club Med® (4 to 10)
Included in your package
We've thought of everything possible to ensure your children have a unique, adventure-packed holiday, with discovery, sports and activities for each age group:

Sport: Snow Garden for beginners (with small groups so that the children can discover the pleasures of skiing at their own pace), group skiing lessons from age 4 (organised on a daily basis)
Making things: art and crafts
Expression: preparation of shows
Play: group games and activities
Lunch and tea
Evening: after dinner with their friends, the children enjoy specially devised evening activities
Access conditions :
Duration : From 8.30 am to 5 pm, 6 days a week
Minimum age : 4 year(s)
Maximum age : 10 year(s)
---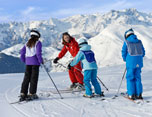 Juniors' Club Med (11 to 17)
Included in your package
Teenagers can meet up and take part in the activities that interest them most, in the company of their G.O®:

Sports activities: Alpine skiing lessons or during school holidays Multi Snow Sports Programme
Artistic activities: dance, theatre, shows, singing, music
Evening: entertainment, events, films, shows
Access conditions :
Duration : 6 days out of 7
Minimum age : 11 year(s)
Maximum age : 17 year(s)
Teenagers are the responsibility of their G.O®s only for the duration of the activities organised specifically for them.
Juniors' Club Med is proposed at Aime la Plagne at the following dates:
from 23 December 2013 to 4 January 2014
from 17 February to 15 March 2014
from 7 to 26 April 2014
---
Hotel services for your children
BABYSITTING*
BABYSITTING*
To enjoy a moment of total freedom, take advantage of the babysitting service.
For information: we provide a list of baby-sitting services on request. Club Med provdes the contact but has no resposibility for the service provided.
SNOW GARDEN
SNOW GARDEN
From 4 years old, participants learn to ski, with circuits around figurines and under hoops; they learn to use the ski tow and snow belt.

---
* at extra cost