Cargèse
France Europe and Mediterranean coasts
Resorts with children's/teens' clubs: Families, couples, friends
tennis
Sailing
Scuba diving
Children & Teens
With the benefit of over 40 years' Club Med experience behind it, our Resort proposes innovative clubs for children and teenagers:

● Dedicated areas specifically designed for their needs, and equipment designed with a view to comfort and safety

● G.O®s with a passion for their job(1)

● Numerous activities for all ages: sport, creative activities and games for the different age groups

● Opening hours that allow parents to make the most of their stay, and respect the children's desires and sleeping patterns

For information: the children's clubs are open all week, except Saturday.

(1)In France, G.O®s with a BAFA (State diploma for youth group leaders) or childcare qualification, depending on the age of the children; in other countries, an equivalent local diploma or relevant experience.

---
Childcare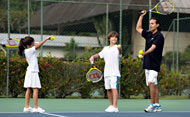 Mini Club Med® (from 4 to 10)
Included in your package
We've thought of everything possible to ensure your children have a unique, adventure-packed holiday, with discovery, sports and activities for each age group:

Sport: Little Tennis, sailing, kayak, etc
Making things: nature activities (e.g. Clean Art Planet), art and crafts
Expression: dancing, preparing shows, crazy signs
Play: group games and activities
Lunch and tea
Evening: after dinner with their friends, the children enjoy specially devised evening activities
Access conditions :
Duration : From 9 am to 5.30 pm, 6 days a week
Minimum age : 4 year(s)
Maximum age : 10 year(s)
---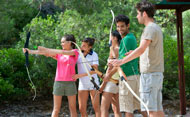 Junior Club Med® (11 to 17)
Included in your package
Teenagers can meet up in a dedicated space and take part in the activities that interest them most, in the company of their G.O®:

Sports activities: archery, table tennis, beach volleyball, windsurfing, etc
Artistic activities: dance, shows, crazy signs
Evening: entertainment, films, shows
Access conditions :
Duration : 6 days out of 7
Minimum age : 11 year(s)
Maximum age : 17 year(s)
Teenagers are the responsibility of their G.O®s only for the duration of the activities organised specifically for them.
The Junior Club Med® (11 to 17) is proposed at the following dates:
From 03/07/2015 to 26/08/2016

---
Hotel services for your children
BABYSITTING*
BABYSITTING*
To enjoy a moment of total freedom, take advantage of the baby-sitting service, subject to availability. Information at Reception. For information: Club Med provides a list of baby sitting services but has no responsibility for the service provided.
PLAYGROUND
PLAYGROUND
The playgrounds separate from the children's club facilities are open to all young children, accompanied by their parents.
---
Exclusively for your children
Nature and discovery activities for children at Mini Club Med®
Nature and discovery activities for children at Mini Club Med®
In the majority of our Mini Club Med®s, their G.O®s introduce your children to the joys of nature, encouraging them to explore and become nature experts! They take part in fun and artistic activities to help them understand the problem of pollution in the environment. Another opportunity for them to discover the world around them!

Access conditions :
Minimum age : 4 year(s)
Maximum age : 10 year(s)

---
* at extra cost