Access conditions
Family Resort welcoming children of all ages, with children's club facilities from 4 to 23 months old.
There are no children's club facilities for children and teens from 2 to 18 years old.

In the swimming pool, children under 3 who are not yet potty-trained must wear a disposable swim nappy.

This Village offers the following children's facilities
>
Baby Club Med® (from 4 months to under 2)
The package includes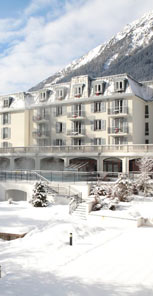 Accommodation

Accommodation according to the level of comfort you choose.

> Find out more
Childcare and children's club facilities

For babies only. With the benefit of over 40 years' Club Med experience behind it, our Resort proposes an innovative Baby Club Med®, a world of powdery snow and pastel shades for babies, with chamois and a majestic Mont Blanc.

● Dedicated areas specifically designed for their needs, and equipment designed with a view to comfort and safety

● G.O®s with a passion for their job(1)

● Numerous activities: sport, creative activities and games

● Opening hours that allow parents to make the most of their day's skiing, and respect the children's desires and sleeping patterns

For information: the children's clubs are open all week, except Saturday.

(1)In France, G.O®s with a BAFA (State diploma for youth group leaders) or childcare qualification, depending on the age of the children; in other countries, an equivalent local diploma or relevant experience.


> Find out more
Club Med Baby Welcome

Club Med Baby Welcome for babies up to 23 months - available in most of the Family Villages if the service is reserved at the time of booking.

> Find out more
Sports

Ski pass and skiing/snowboarding lessons (subject to Resorts)

Free access:
Weights and cardio room

Initiation group lessons:
Pilates

Initiation:
Discover the mountain environment

Group lessons for all levels (age and date restrictions may apply):
Alpine skiing, Snowboard, Club Med fitness

> Find out more
Leisure activities

Bridge lounge, Swimming pool, Lounge and festive evenings.

> Find out more
Bars and restaurants

Full board throughout the stay including wine, beer and soft drinks with lunch and dinner. Open bar and snacks (at the restaurant) at specific times during the day and night.

> Find out more
Transport package

If you've opted for a Transfer package, it includes the return flights and transfers to and from the Resort.