La Palmyre Atlantique
France Europe and Mediterranean coasts
Resorts with children's/teens' clubs: Families, couples, friends
Sailing
tennis
Kitesurf
Spa & Wellness
Children & Teens
With the benefit of over 40 years' Club Med experience behind it, our Resort proposes innovative clubs for children and teenagers:

● Dedicated areas specifically designed for their needs, and equipment designed with a view to comfort and safety

● G.O®s with a passion for their job(1)

● Numerous activities for all ages: sport, creative activities and games for the different age groups

● Opening hours that allow parents to make the most of their stay, and respect the children's desires and sleeping patterns

For information: the children's clubs are open all week, except Sunday.

(1)In France, G.O®s with a BAFA (State diploma for youth group leaders) or childcare qualification, depending on the age of the children; in other countries, an equivalent local diploma or relevant experience.

---
Childcare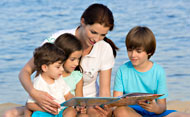 Mini Club Med® (from 4 to 10)
Included in your package
We've thought of everything possible to ensure your children have a unique, adventure-packed holiday, with discovery, sports and activities for each age group:

Sport: Little Tennis
Making things: nature activities (e.g. Clean Art Planet), art and crafts
Expression: dance, preparing and taking part in shows, crazy signs
Play: group games and activities
Lunch and tea
Evening: after dinner with their friends, the children enjoy specially devised evening activities
Access conditions :
Duration : From 9 am to 5.30 pm and from 7 pm to 9 pm, 6 days a week
Minimum age : 4 year(s)
Maximum age : 10 year(s)
On arrival at the Resort, you'll be asked to present a medical certificate stating that there are no contra-indications to the child's presence, for children from 4 to 5 years.
---
Juniors' Club Med (from 11 to 17)
Included in your package
Teenagers can meet up in a dedicated space and take part in the activities that interest them most, in the company of their G.O®:

Sports activities: archery, table tennis, beach volleyball, sailing, etc
Artistic activities: dance, shows, crazy signs
Evening: entertainment, films, shows
Access conditions :
Duration : 6 days out of 7
Minimum age : 11 year(s)
Maximum age : 17 year(s)
Teenagers are the responsibility of their G.O®s only for the duration of the activities organised specifically for them.
The Juniors' Club Med (from 11 to 17) is proposed at the following dates:
From 18/04/2016 to 07/05/2016

---
Hotel services for your children
BABY CORNER
BABY CORNER
This Baby Zone, located in the Resort's general buffet restaurant, has sweet and savoury baby foods and the equipment necessary to prepare your babies' meals.
BABY-SITTING*
BABY-SITTING*
To enjoy a moment of total freedom, take advantage of the baby-sitting service, subject to availability. Information at Reception. For information: we provide a list of baby-sitting services on request. These outside service providers bear the entire responsibility for the services they provide; the Club Med provides the contact but has no resposibility for the service.
CLUB MED BABY WELCOME® (FROM BIRTH TO 23 MONTHS)
CLUB MED BABY WELCOME® (FROM BIRTH TO 23 MONTHS)
We've done everything in our power to ensure the comfort and well-being of parents and babies.

Personal welcome, baby-care material available in your room and/or in the baby feeding room (cot, changing mat, baby bath, high chair on request, bottle-warmer), sweet and savoury baby foods, Baby Zone equipped to prepare babies' meals, high chairs in the restaurant.

Spare pushchairs are also available if required.
PLAYGROUND
PLAYGROUND
The playgrounds independent of the children's club facilities are open to all children, accompanied by their parents.
---
Exclusively for your children
"Teen Spa"*
"Teen Spa"*
Club Med Spa by DECLÉOR now proposes specific beauty treatments for teenagers (excluding massage**), at set times in the day, to introduce them to the World of Wellness. An experience to try on your own, with Mum or with your friends.
Reservations on site only.

** For information:
The term "massage" implies a superficial manipulation of the face or body, solely for aesthetic purposes, sometimes to ensure optimal penetration of a cosmetic product, or for comfort. The massage referred to is an external massage of the skin, with no medical or therapeutic aim. It may be done manually or with mechanical aids, exclusively by qualified, trained professionals.

Access conditions :
Minimum age : 11 year(s)
Maximum age : 17 year(s)

Little Tennis
Little Tennis
Through role play, children aged 4 to 6 get to learn tennis the fun way, at Mini Club Med®*.

Access conditions :
Minimum age : 4 year(s)
Maximum age : 6 year(s)

Nature and discovery activities for children at Mini Club Med®
Nature and discovery activities for children at Mini Club Med®
In the majority of our Mini Club Med®s, their G.O®s introduce your children to the joys of nature, encouraging them to explore and become nature experts! They take part in fun and artistic activities to help them understand how plastic and other synthetic materials pollute the world. Another opportunity for them to discover the world around them!

Access conditions :
Minimum age : 4 year(s)
Maximum age : 10 year(s)

---
* at extra cost