Marrakech La Palmeraie
Morocco Africa
Resorts with children's/teens' clubs: Families, couples, friends
Golf
tennis
Flying trapeze
Discovery & culture
Spa & Wellness
Wellness Centre
CINQ MONDES Spa at Club Med proposes the best treatments and massage techniques from around the world.

You'll find:
● 13 individual treatment rooms
● 1 duo room for tandem treatments
● 2 body scrub rooms in the Turkish bath
● 2 rooms with bath
● Zen area and tea room

All our treatment programmes are organised around a theme.

Organise your Spa sessions :
● Sign up for your Spa packages when you book your holiday, so that you can choose your timing in advance: in the daytime, before 5 pm (your session will end at 5 pm), or in the early evening, from 5 pm. Your choice of timing will be the same for every day of your Spa treatments. When you book your holiday, and purchase your Spa package, you are guaranteed of doing the treatments of your choice, but the precise time of your appointments will be fixed with the Spa hostesses when you arrive. You should consequently go to the Spa reception at the start of your holiday in order to finalise your Spa schedule.

● The majority of our Spa packages are designed for men and women (expectant mothers or mothers with a baby less than 3 months old or who are breast feeding are not advised to take Spa treatments). If in doubt, please consult us.

● You will be asked to complete a confidential questionnaire before doing your Spa treatments or package, in order to ensure that you are apt to receive your chosen treatment.

● A Spa package is not transferable, and must be done by the person who purchased it. The treatments may not be modified or replaced by the client.

● Treatments (à la carte or as part of a Spa package) cancelled during the client's stay without a medical justification, and changes in timing made less than 24 hours in advance, cannot be taken into account; the said treatments may not be replaced or refunded.

● For your safety, you must wear anti-slip sandals in the Spa. A pair of anti-slip sandal is included in the purchase of our 1 to 6 day Spa packages.

● Club Med reserves the right to change, cancel or postpone its Spa programmes.


For information:
The term "massage" implies a superficial manipulation of the face or body, solely for aesthetic purposes, sometimes to ensure good penetration of a cosmetic product, or for comfort. The massage referred to is an external massage of the skin, with no medical or therapeutic aim. It may be done manually or with mechanical aids, exclusively by qualified, trained professionals.

OUR PACKAGES
We can also offer you:
> Turkish bath
You'll find:
● 1 mixed Turkish bath (maximum 10 people).

At extra cost if:
● Access to the Zen area and tea room.
● Loan of towel, bathrobe and sandals.

Enjoy a moment of true relaxation in the Turkish Bath. The temperature in this steam bath goes up to around 50°C; it helps sweat out toxins, facilitates exfoliation and produces a profound feeling of well-being and relaxation.There are a few precautions and contra-indications to be observed.
> Hair care salon
In the CINQ MONDES Spa at La Palmeraie, a whole new concept awaits you.
An exciting new space combining hair care and relaxation

Classic hair care:
● Shampoo, cut and blow dry

Hair care and Treatment Rituals®:
● Beauty Rituals® - Hair and scalp
Fortifying treatment consisting of shampoo and conditioner with essential oils and a relaxing scalp massage and natural drying for instantly radiant hair.

● Royal Ritual® - Hair and scalp
Relaxing massage treatment consisting of shampoo and conditioner with essential oils, followed by natural drying and massage of reflex zones on the scalp, neck, shoulders and hands, for deep relaxation.

● Imperial Ritual® - Hair and scalp
Sublime massage treatment combining shampoo and conditioner with essential oils followed by natural drying and a stimulating massage of reflex zones on the scalp, face and upper back, followed by your choice of a hand or foot beauty treatment.


"Spa Experience®" Rituals
For Him
Discover a selection of the best treatments and massages, for a unique sensory experience.

5 treatments and 1 Relaxing Turkish Bath recommended
● 1 Aroma and Colour Bath (20')
● 1 Energising Aromatic Body Scrub with Rare and Precious Spices (20')
● 1 Relaxing Leg Ritual (20')
● 1 "Flowers of Bali Ritual®" Radiant Facial treatment (20')
● 1 Relaxing Back Massage (20')
● 1 Relaxing Turkish Bath recommended (20')
> Top of the page
---
"Suns of the World" Rituals
Energy
Reap the benefits of a selection of treatments and massage techniques from round the world.

9 treatments and 1 Relaxing Turkish Bath recommended
● 1 Beldi® Black Soap Purifying Body Scrub (20')
● 1 Relaxing Traditional Oriental Massage (50')
● 1 Global Anti-Age Precious "KO BI DO®" Massage treatment (80')
● 1 Aroma and Colour Bath (20')
● 1 Enveloping Balinese Massage (50')
● 1 Regenerating Angel Hands® Massage treatment (50')
● 1 Relaxing Leg Ritual (20')
● 1 Sublime Smoothing Scrub with Noni and Tahiti Monoi (20')
● 1 Sublime Relaxing Polynesian Massage (80')
● 1 Relaxing Turkish Bath recommended (20')
> Top of the page
---
Beauty Rituals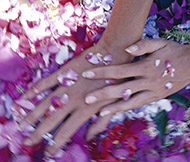 Beauty
Effective and natural beauty techniques, tried and tested over the centuries, for a radiant complexion and harmonious body.

5 treatments and 1 Relaxing Turkish Bath recommended
● 1 Aroma and Colour Bath (20')
● 1 "Papaya Pulp®" Radiant Scrub (20')
● 1 Enveloping Balinese Massage (50')
● 1 Global Anti-Age Precious "KO BI DO®" Massage treatment (80') and your personal "expert" skin analysis (30')
● 1 Regenerating Angel Hands® Massage treatment or 1 Energising Light Feet® Massage treatment (50')
● 1 Relaxing Turkish Bath recommended (20')
> Top of the page
---
Customised Wellness rituals 2 hours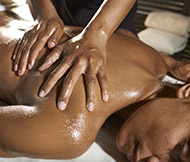 > Top of the page
---
Customised Wellness rituals 4 hours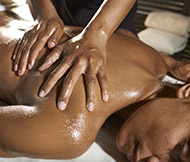 > Top of the page
---
Customised Wellness rituals 6 hours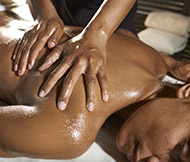 > Top of the page
---
Turkish Bath Ceremonial
> Top of the page
---
Wellness & Serenity Rituals
OPTIONAL EXTRA*
Wellness & Serenity Rituals
Relaxation
Experience the legendary traditions of Bali and the Kingdom of Siam, to restore harmony of mind and body.

6 treatments and 1 Relaxing Turkish Bath recommended
● 1 Aroma and Colour Bath (20')
● 1 Papaya Pulp Radiant Skin Scrub® (20')
● 1 Taoist Youth and Radiance Facial Massage treatment (80')
● 1 Enveloping Balinese Massage (50')
● 1 Toning Indian Ayurvedic Massage (80')
● 1 Imperial Hand and Foot® Massage treatment (50')
● 1 Relaxing Turkish Bath recommended (20')
> Top of the page
---
You can reserve our SPA packages at the time of reservation
* at extra cost