Peisey-Vallandry
France Alps
Resorts with children's/teens' clubs: Families, couples, friends
Hiking
Bycicle mountain bike
Spa & Wellness
Children & Teens
With the benefit of over 40 years' Club Med experience behind it, our Resort proposes innovative clubs for children and teenagers:

● Dedicated areas specifically designed for their needs, and equipment designed with a view to comfort and safety

● G.O®s with a passion for their job(1)

● Numerous activities for all ages: sport, creative activities and games for the different age groups

● Opening hours that allow parents to make the most of their stay, and respect the children's desires and sleeping patterns

For information: the children's clubs are open all week, except Saturday.

(1)In France, G.O®s with a BAFA (State diploma for youth group leaders) or childcare qualification, depending on the age of the children; in other countries, an equivalent local diploma or relevant experience.

---
Childcare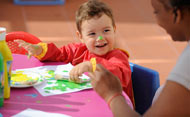 Petit Club Med® (from 2 to 3)
Optional Extra*
Fun and spacious premises with plenty of outdoor space. Your toddlers will have a great time with their friends, and explore a wide range of activities designed to introduce them to new experiences:

Sport: Little Tennis, gym sessions, walks, water games, etc
Making things: arts and crafts, herbariums
Expression: dressing up, make up, fashion shows, listening to music, puppets
Play: outdoor games and board games
Rest time and siesta, lunch and tea
Evening: songs, games, nursery rhymes, shows
Access conditions :
Duration : From 8.30 am to 5 pm, 6 days a week
Minimum age : 2 year(s)
Maximum age : 3 year(s)
Children must be up to date with their diphtheria, tetanus and polio jabs. On arrival at the Resort, you'll be asked to present a document showing the child's health record, and a medical certificate stating that there are no contra-indications to the child's presence.
Nappies and baby milk are not provided by Petit Club Med®.
---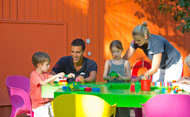 Mini Club Med® (from 4 to 10)
Included in your package
We've thought of everything possible to ensure your children have a unique, adventure-packed holiday, with discovery, sports and activities for each age group:

Sport: walks
Making things: nature activities (e.g. Clean Art Planet), art and crafts
Expression: dancing, preparing shows, crazy signs
Play: group games and activities
Lunch and tea
Evening: after dinner with their friends, the children enjoy specially devised evening activities
Access conditions :
Duration : From 8.30 am to 5 pm, 6 days a week
Minimum age : 4 year(s)
Maximum age : 10 year(s)
---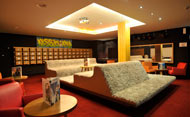 Club Med Passworld® (from 11 to 17)
Included in your package
Exclusive, contemporary spaces specially designed for teenagers, where they can meet up and feel free to express themselves; a host of propositions and zero obligations, in the company of a dedicated G.O®.

Sports activities: hiking, mountain biking, etc
Creative activities: creating objects, make up, graffiti
Artistic activities: dance, shows, crazy signs
Adventure and discovery: picnics, camping
Evening: entertainment (on the beach movie night, beach party), films, shows
Access conditions :
Duration : 6 days out of 7
Minimum age : 11 year(s)
Maximum age : 17 year(s)
Teenagers are the responsibility of their G.O®s only for the duration of the activities organised specifically for them.
The Club Med Passworld® (from 11 to 17) is proposed at the following dates:
From 21/06/2015 to 28/08/2015

---
Hotel services for your children
BABY FEEDING ROOM
BABY FEEDING ROOM
Open 24 hours a day, it contains the necessary facilities for preparing meals: blender, steriliser (provided on request only), microwave, refrigerator, bottle warmer (available in the room for G.Ms® who have reserved the Baby Club Med® or Club Med Baby Welcome®), and certain additional items such as mineral water, fruit and longlife milk (baby milk is not provided).
CLUB MED BABY WELCOME® (FROM 4 TO 23 MONTHS)
CLUB MED BABY WELCOME® (FROM 4 TO 23 MONTHS)
We've done everything in our power to ensure the comfort and well-being of parents and babies.

Personal welcome, baby-care material available in your room and/or in the baby feeding and equipment room (baby bed, changing mat, baby bath, high chair on request, bottle-warmer), sweet and savoury baby foods, baby corner equipped to prepare babies' meals, high chairs and/or booster cushions in the restaurant.

Spare pushchairs are also available if required.
BABY CORNER
BABY CORNER
This baby corner, in the main buffet restaurant, proposes sweet and savoury baby foods and the equipment necessary for preparing babies' meals.
BABYSITTING*
BABYSITTING*
To enjoy a moment of total freedom, take advantage of the babysitting service, subject to availability. Information at Reception. For information: Club Med provides a list of baby sitting services but has no responsibility for the service provided.
PLAYGROUND
PLAYGROUND
The playgrounds, which are separate from the children's club facilities, are open to children accompanied by their parents.
---
Exclusively for your children
"Teen Spa"*
"Teen Spa"*
Club Med Spa by CARITA now proposes specific beauty treatments for teenagers (except massage**), at set times in the day, to introduce them to the World of Wellness.
Reservations on site only.

** For information:
The term "massage" implies a superficial manipulation of the face or body, solely for aesthetic purposes, sometimes to ensure optimal penetration of a cosmetic product, or for comfort. The massage referred to is an external massage of the skin, with no medical or therapeutic aim. It may be done manually or with mechanical aids, exclusively by qualified, trained professionals.

Access conditions :
Minimum age : 11 year(s)
Maximum age : 17 year(s)

Baby Gym
Baby Gym
Babies explore movement - crawling, climbing and sliding - on fun circuits created especially for them. The activity is run by G.O®, as part of the children's club activities proposed. Parents may also take part in this learning activity when the G.O® organise specific events. For information, this activity is open to children enrolled at Petit Club Med® only.

Access conditions :
Minimum age : 4 months
Maximum age : 3 year(s)

Clean Art Planet at Mini Club Med®
Clean Art Planet at Mini Club Med®
Clean Art Planet raises children's awareness of the environment. This original activity focuses on recyclable waste (cups, straws, corks, etc) from the Resort's kitchens and bars which are used in a series of workshops focusing on art and colour, putting emotion in the limelight rather than right and wrong!
Once the objects have been collected by adults, sorted, washed and arranged according to colour, the Mini Club Med® can get on with the creative side of the activity, during which the children invent objects and stories, do photography, create large-scale works of art and put on exhibitions.
The activity is run by G.O®s.

Access conditions :
Minimum age : 4 year(s)
Maximum age : 10 year(s)

---
* at extra cost