Sandpiper Bay
U.S.A. Caribbean and American coasts
Resorts with children's/teens' clubs: Families, couples, friends
Flying trapeze
Spa & Wellness
Sports & Activities
In this Club Med Resort, novices and experts can try out exciting new sports and sensations. With GO®s trained in their particular activity, you'll enjoy the highest standards of equipment and facilities.

It's going to be a sensational summer at Sandpiper Bay!
From 6 to 30 May the Resort will host the Boday and Mind Weeks, a programme of unique activities revolving round sport, wellness and nutrition.
In July and August you can waterski to your heart's content, it'll be included in your Club Med package.
---
Why choose between waterskiing and wakeboarding, when you can do both? Explore all the sensations of gliding over the water (20-minute package; activity proposed at extra cost all year round by the Discovery centre).

In July-August 2016:
Both waterski and wakeboard will be offered free of charge, and as always, our team of expert staff will be there to help you learn or master the technique. Try something new and experience the thrill of waterski & wakeboarding!

All year long:
Package at extra cost, including:
- 20 minutes session
- Professional instruction
- Watersports boat
- Use of the latest Watersports equipment



DISCOVER THIS ACTIVITY
---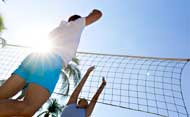 Beach Volleyball Academy
Included in your package
Discover an enhanced programme for one of the fastest-growing and most popular sports in the world: Beach Volleyball. In partnersip with the National Volleyball League, our Academy has 7 Olympic size sand courts for beach volleyball with professional coaching, whether you want to discover this fun sport, or improve your skills.

For those who'd like to take their chosen activity further, in addition to the group lessons included in your package, we propose made to measure beach volleyball courses*.
* At extra cost


---
The Sports Schools offer the best equipment and facilities for flying trapeze enthusiasts so that all participants can enjoy their sport in the best possible conditions.

● Quality teaching by G.O®s trained in their discipline, to introduce beginners to the sport and enable experienced participants to perfect their technique.

● Group classes for all levels, 6 days a week, give you the chance to make real progress and master your movements (tightrope, juggling, bungy trampoline, etc)

● Method and equipment (on loan for lessons) adapted for each age group and level of skill.

For information:
> as a discovery activity at Mini Club Med®: 4 years old
(this is a first experience of the activity, with sessions once or twice a week)
> as a regular activity at Mini Club Med®: 6 years old
> in group lessons with adults: 11 years old




DISCOVER THIS ACTIVITY
---
The Club Med Tennis Academy at Sandpiper Bay offers daily, weekly and full-time tennis programs* for Junior and Adult players all year round, run by top coaches Gabe Jaramillo and Scott Del Mastro and their team.

Gabe Jaramillo has trained 8 number ones and 26 Top Ten professional players, including Monica Seles, Maria Sharapova, Andre Agassi, Anna Kournikova, and Kei Nishikori. The Sandpiper Bay Academy tennis programs are open to players of all standards, from beginners through to top class players.

Our Academy has a track record of helping players reach their top potential and get the very best out of their game.

Our programs have two unique training sessions, one in the morning and one in the afternoon. The morning session includes two hours of stroke production and technique development. The afternoon session includes weight training, and focuses on point development and match play. Our method of two training sessions per day allows players to assimilate the training in the most effective way.

Sessions began at 8 am (depending on level). We also offer "Active Packages*" and Private Lessons*.

In addition to their Academy training, players get the chance to train with the best players and play full-length matches, giving them hands-on experience and mental as well as physical training. Among the group lessons included in your package:

● At Mini Club Med® and Juniors' Club Med®
- Little Tennis (for 4 to 7 year olds) 4 days a week (lessons last 30 minutes)
- Junior Tennis (for 8 to 13 year olds) proposes lessons on smaller courts, with stroke speed adapted to the age and size of players.
5 days a week (lessons last 45 minutes).

● For adults
- Beginners' and advanced lessons and cardio-tennis (from age 14).
6 days a week (lessons last 45 minutes).
The Resort has 6 clay courts and 14 hard courts, 8 of which are floodlit.

In addition to the group lessons included in your package, why not take your chosen sports activities further and take part in the courses* and tailor made private lessons* we propose.
* At extra cost


DISCOVER THIS ACTIVITY
---
The Fitness Academy offers the best facilities and equipment for fitness enthusiasts, with a wide range of activities including:
- stretching (a great technique to improve the flexibility of the joints)
- BODYPUMP™ (uses weights, to sculpt, strengthen and tone the whole body)
- cardio-splash (water aerobics: helps sculpt muscles, improve coordinationa and suppleness; this is a good cardio exercise).
- Pilates (inspired by yoga, dance and gym), Pilates helps correct and improve posture by firming and toning muscles, develops suppleness, eliminates stress thanks to breathing techniques, improves coordination and helps prevent injury related to bad posture, etc.
- Zumba® is a fun and energising physical fitness programme devised by a Columbian fitness instructor, Beto Perez, based on rhythm and choreographies inspired by Latin dances such as the salsa, meringue, reggaeton, etc.

The Fitness Academy is committed to providing the most professional courses* possible for a unique experience comprising sport, personal training, regeneration and guidance on nutrition.

> For information: from 16 years old

* At extra cost.

For those who want to take their favourite sport further, in addition to the group lessons included in your package, discover our tailor made courses*.


DISCOVER THIS ACTIVITY
---
And also ...
---
---
> SPORTS Included in your package:
Free access : Basketball , Football , Volleyball , Water-polo , Cardio and weights room , Stand Up Paddle Initiation group lessons : Sailing Academy , AquaZumba® Group lessons for all levels (age and date restrictions may apply) : Waterskiing and Wakeboarding , Power walking , Beach Volleyball Academy , Flying Trapeze Academy with circus activities , Tennis Academy , Fitness Academy , Golf Academy
---
> SPORTS Optional Extra*:
On site : Tubing Group lessons for all levels (age and date restrictions may apply) : Beach Volleyball Academy , Tennis Academy , Fitness Academy , Golf Academy All levels : Club Med Camp
---
> Children's activities
"Teen Spa", Art studio, Baby Gym, Little Basketball, Little Circus, Little Hockey, Little Soccer, Little Tennis, Mini Club Talent Show, Nature and discovery activities for children at Mini Club Med®, Petit Chef Program®, Petit Golf, Water park, Zumbatomic®
---
* at extra cost