Turkoise
Turks & Caicos Caribbean and American coasts
Resorts without children: Friends, singles, couples
Scuba diving
Flying trapeze
Sailing
Fitness
Scuba diving - Turkoise
---
We propose the best spots, so that Scuba diving enthusiasts can practice their sport in the best possible conditions.
Scuba diving requires specific training and technique, so to ensure optimum conditions, we propose courses* and packages* only.

Beginners and experienced divers alike will be able to enjoy their sport in the best possible conditions.

● Turquoise proposes quality teaching by specialist instructors or outside operators, to introduce beginners to the sport and enable experienced divers to perfect their technique

● Courses* for all levels, to ensure that all participants make real progress

● Full equipment for each age group and level of skill

The head of the diving activity will decide whether participants must do a refresher dive (includes a reminder of instructions, technique and safety regulations) before the start of all advanced diving packages - independent or accompanied by an instructor (depending on level, dive logbook, etc). The refresher dive is not included in the price of the package.

For all diving diplomas above CMAS 1 Star or equivalent, you'll be also required to show a medical certificate stating that you are fit to dive, issued by a doctor specialized in problems related to Scuba diving or hyperbaric medicine or affiliated to a diving federation. The certificate must be less than 12 months old.


Magnificent architecture, with vertical drop-offs, canyons and coral spurs. You're sure to observe barracuda, grouper, triggerfish, and turtles.
-> Additional information:
Optional Extra*
You only need to glance at the geographical location of the Turks & Caicos Islands to see that this is a divers' paradise.

Two archipelagos (Turks & Caicos) south of the Bahamas, separated by a strip of sea, not far from the continent. The sea bed can drop to 1 800 metres (600 ft), with visibility at 15 to 45 metres (50 to 150 ft).

There are deep and shallow dives, with numerous species of big fish including barracuda, trevally, tuna, dolphins and - at certain seasons - humpback whales. The reef has fabulous sponges and lots of smaller fish too, including seahorses.

● Over 25 sites, with three zones where the boat can anchor: North West Point, Pine Key and Grace Bay(protected marine zone) and depending on weather conditions, West Caicos
● 12-metre catamaran (42 ft) specially equipped for diving
● SCUBAPRO equipment rental
● Every day: mornings, 2 dives, one afternoon per week, 1 dive except Wednesday, which is night dive day
● PADI resort
● Classroom
● Lockers for your personal equipment (bring a padlock).
> Our diving spots:
Optional Extra*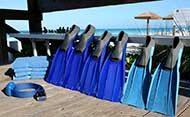 A few examples of spots...

● Amphitheatre
Depth: from 12 m (40 ft)
A broad vertical wall going down to 20 m.

● Aquarium
Depth: from 14 to 43 m (45 to 140 ft)
Among the fish you're likely to see: Nassau groupers and crayfish...

● Pinnacles
Depth: from 11 to 30 m (36 to 100 ft)
Above a coral wall, splendid cauldrons and coral pinnacles.
Advanced diving package without equipment
Optional Extra*
For information, this package is proposed with or without an instructor (instructor at extra cost).

Minimum level required: CMAS 1 Star, PADI Open Water or equivalent

Over a period of 6 days, the course includes:
● 12 open water exploration dives, including 1 refresher dive
● Cylinder, lead belt and boat trips

You'll require:
● Your licence
● Your dive log book
● A bank card to guarantee your equipment
● Scuba diving insurance (can be purchased on site, for one week or more)
Minimum stay: 7 days

Advanced diving package with equipment
Optional Extra*
For information, this packages is proposed with or without an instructor (instructor at extra cost).

Minimum level required: CMAS 1 Star, PADI Open Water or equivalent

Over a period of 6 days, the course includes:
● 12 open water exploration dives, including 1 refresher dive
● Full equipment (cylinder, lead belt, wetuit, stab jacket, dive regulator, flippers, mask and snorkel) instruction and boat trips
You'll require:
● Your licence
● Your dive log book
● A bank card to guarantee your equipment
● Scuba diving insurance (can be purchased on site, for one week or more
Minimum stay: 7 days

Become a Certifed Diver - PADI Open Water Course
Optional Extra*
Over a period of 5 days, this course includes:
● 5 pool or confined water lessons
● 4 accompanied open water dives
● 5 theory sessions/videos and final exam
● Full equipment, instruction and boat trips.
● Certification

It does not include:
● The PADI dive logbook, handbook and course material, on sale on site only.

Minimum stay: 7 days

Dive computer rental
Optional Extra*
Summer 2014 (prices given as an indication, subject to exchange rate):
15 USD per day (around 11 Euros)
75 USD per week (around 55 Euros)
PADI Discover Scuba Diving - first dive
Optional Extra*
This one-day course includes:
● 1 pool or confined water dive
● 1 accompanied shallow sea dive from the snorkelling boat
● Full equipment (cylinder, lead belt, wetsuit, stab jacket, diving regulator, flippers, mask and snorkel), instruction and boat trips.

Minimum stay: 7 days

* at extra cost