Valmorel - Chalet-Apartment
France The French Alps, France
Resorts with children's/teens' clubs: Families, couples, friends
Ski in ski out
Charm & Prestige
Spa & Wellness
Included après-ski activities
Sports & Activities
---
All the sensations of the ski slopes, at your own pace.

Professional ski instructors, who are perfectly familiar with the ski domain, will guide you over the runs best suited to your level of skill, to ensure you progress safely but surely in the best possible conditions, in small groups of 12 people maximum.

● Group lessons proposed from age 4
● A test on the first morning will determine your level, and the right class for you:

> Beginners: this is your first experience of Alpine skiing
> Class 1: you can control your speed, and are at ease on blue runs
> Class 2: you can negotiate red runs at a reasonable speed
> Class 3: you are at ease on all runs
> Expert: you are at ease on all types of terrain and snow


●Top quality equipment* and the Ski Service®*to ensure your satisfaction





DISCOVER THIS ACTIVITY
---
All the sensations of the ski slopes, at your own pace.

Professional instructors, who are perfectly familiar with the ski domain, will guide you over the runs best suited to your level of skill, to ensure you progress safely but surely in the best possible conditions, in small groups of around 12 people.

● Group lessons proposed from age 8 during school holidayss:

from 23 December 2013 to 1 February 2014
from 17 February to 15 March 2014
from 7 to 19 April 2014
and from 12 years old outside school holidays
● A test on the first morning will determine your level, and the right class for you:
> Beginners: this is your first experience of snowboarding
> Class 1: you can control your speed, and are at ease on blue runs
> Class 2: you can negotiate red runs at a reasonable speed
> Class 3: you are at ease on all runs
> Expert: you are at ease on all types of terrain and snow
●
Top quality equipment
and the
Ski Service®*
to ensure your satisfaction
DISCOVER THIS ACTIVITY
---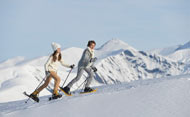 Walks, snow shoe walks and Nordic walking
Included in your package
As an alterntive to skiing, for those looking for other ways to enjoy the mountains. From 12 years old, over a period of 5 consecutive days, we propose a complete programme combining these 3 activities.


---
And also ...
---
---
> SPORTS Included in your package:
Initiation group lessons : Club Med fitness , Pilates Group lessons for all levels (age and date restrictions may apply) : Alpine skiing , Snowboard Intermediate/advanced : Multi Snow Sports Programme Free practice : Weights and cardio room , Walks, snow shoe walks and Nordic walking , Sled
---
---
> Childdren's activities
"Learning to ski and the pleasures of snow" course, "Teen Spa", Baby Gym, Children's cookery lessons, Clean Art Planet at Mini Club Med®, Happy Nature Box at Mini Club Med®, Little Gym, Mountainboarding
---
* at extra cost