Wengen
Switzerland Alps
Resorts with children's/teens' clubs: Families, couples, friends
Charm & Prestige
Included après-ski activities
Children & Teens
With the benefit of over 40 years' Club Med experience behind it, our Resort proposes innovative clubs for children and teenagers:

● Dedicated areas specifically designed for their needs, and equipment designed with a view to comfort and safety

● G.O®s with a passion for their job(1)

● Skiing or snowboard lessons given by professional ski instructors, creative activities and games for the different age groups

● Opening hours that allow parents to make the most of their day's skiing, and respect the children's desires and sleeping patterns

For information: the children's clubs are open all week, except Sunday.

(1)In France, G.O®s with a BAFA (State diploma for youth group leaders) or childcare qualification, depending on the age of the children; in other countries, an equivalent local diploma or relevant experience.

---
Childcare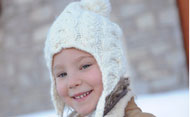 Petit Club Med® (2 to 3)
Optional Extra*
Fun and spacious premises with plenty of outdoor space. Your toddlers will have a great time with their friends, and explore a wide range of activities designed to introduce them to new experiences:

Sport: gym sessions, walks, etc
Making things: painting, collage, coloured stickers, herbariums
Expression: dressing up, make up, fashion shows, listening to music, puppets
Play: outdoor games and board games
Rest time and siesta, lunch and tea
Evening: songs, games, nursery rhymes, shows
Access conditions :
Duration : From 8.30 am to 5 pm, 6 days a week
Minimum age : 2 year(s)
Maximum age : 3 year(s)
Children must be up to date with their diphtheria, tetanus and polio jabs. On arrival at the Resort, you'll be asked to present a document showing your child's health record.
Nappies and baby milk are not provided by Petit Club Med®*.
Places are limited, so we advise you to book early!
---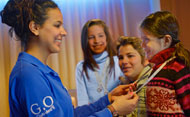 Mini Club Med® (4 to 10)
Included in your package
We've thought of everything possible to ensure your children have a unique, adventure-packed holiday, with discovery, sports and activities for each age group:

Sport: with their ski school instructors, the children can discover the pleasures of skiing at their own pace
Making things: art and crafts
Expression: dancing, preparing shows, crazy signs
Play: group games and activities
Lunch and tea
Evening: after dinner with their friends, the children enjoy specially devised evening activities
Access conditions :
Duration : From 8.30 am to 5 pm, 6 days a week
Minimum age : 4 year(s)
Maximum age : 10 year(s)
---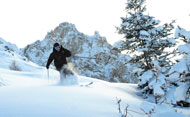 Juniors' Club Med (11 to 17)
Included in your package
Teenagers can meet up and take part in the activities that interest them most, in the company of their G.Os:

Sports activities: alpine skiing or snowboarding lessons or, during the school holidays, the Multi Snow Sports Programme
Artistic activities: dance, shows, crazy signs
Evenings: entertainment, films, shows
Access conditions :
Duration : 6 days out of 7
Minimum age : 11 year(s)
Maximum age : 17 year(s)
Teenagers are the responsibility of their G.O®s only for the duration of the activities organised specifically for them.
Juniors' Club Med is proposed at Wengen at the following dates:
from 21 December 2015 to 2 February 2016
from 8 February to 2 April 2016
---
Hotel services for your children
CLUB MED BABY WELCOME® (FROM 4 TO 23 MONTHS)
CLUB MED BABY WELCOME® (FROM 4 TO 23 MONTHS)
We've done everything in our power to ensure the comfort and well-being of babies and parents.

Personal welcome, baby-care material available in your room and/or in the baby feeding and equipment room (cot, changing mat, baby bath, high chair on request, bottle-warmer), sweet and savoury baby foods, baby corner equipped to prepare babies' meals, high chairs and/or booster cushions in the restaurant.

Spare pushchairs are also available if required.
BABY CORNER
BABY CORNER
This baby corner, located in the main restaurant, proposes sweet and savoury baby foods and all the equipment necessary for preparing your babies' meals.
SNOW GARDEN
SNOW GARDEN
From 4 years old, participants learn to ski, with circuits around figurines and under hoops; they learn to use the ski tow and snow belt.

---
* at extra cost