Yabuli
China Asia and Indian Ocean
Resorts with children's/teens' clubs: Families, couples, friends
Flying trapeze
Hiking
Bycicle mountain bike
Spa & Wellness
Children & Teens
With the benefit of over 40 years' Club Med experience behind it, our Resort proposes innovative clubs for children and teenagers:

● Dedicated areas specifically designed for their needs, and equipment designed with a view to comfort and safety. Design inspired by the local environment with its flora and fauna: at Yabuli the decor is based on characters with headdresses inspired by the fruits of local trees (maple, walnut, oak, plum and alder) to introduce the children (aged 4 to 10) to the pleasures of living in harmony with nature, and satisfy their curiosity

● G.O®s with a passion for their job(1)

● Numerous sports, creative and fun activities for the different age groups

● Opening hours that allow parents to make the most of their day's skiing, and respect the children's desires and sleeping patterns

For information: the children's clubs are open all week.

(1)In France, G.O®s with a BAFA (State diploma for youth group leaders) or childcare qualification, depending on the age of the children; in other countries, an equivalent local diploma or relevant experience.

---
Childcare
Petit Club Med® (2 to 3)
Optional Extra*
Fun and spacious premises with plenty of outdoor space. Your toddlers will have a great time with their friends, and explore a wide range of activities designed to introduce them to new experiences:
Sport: walks, gym sessions, etc
Making things: arts and crafts
Expression: dressing up, make up, fashion shows, listening to music, puppets
Play: outdoor snow games, construction and board games
Rest time and siesta, lunch and tea
Evening: songs, games, nursery rhymes, shows


Access conditions :
Duration : From 8.30 am to 5 pm, every day
Minimum age : 2 year(s)
Maximum age : 3 year(s)

Children must be up to date with their diphtheria, tetanus and polio jabs. On arrival at the Resort, you'll be asked to present a document showing your child's health record.

Nappies and baby milk are not provided by Petit Club Med®.



---
Mini Club Med® (4 to 10)
Included in your package
We've thought of everything possible to ensure your children have a unique, adventure-packed holiday, with discovery, sports and activities for each age group:
● Sport: walks, Little tennis, flying trapeze, etc
● Making things: nature activities and crafts
● Expression: dancing, preparing shows, crazy signs
> ● Play: group games and activities
● Lunch and tea
● Evening: after dinner with their families, the children enjoy specially devised evening activities


Access conditions :
Duration : From 8.30 am to 5 pm, every day
Minimum age : 4 year(s)
Maximum age : 10 year(s)

---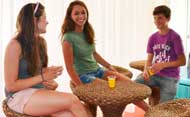 Juniors' Club Med® (11 to 17)
Included in your package
Teenagers can meet up and take part in the activities that interest them most, in the company of their G.O®:
● Sports activities: mountain biking, hiking, table tennis, etc
● Artistic activities: dance, theatre, singing, music, shows
● Evening: entertainment, films, shows



Access conditions :
Duration : Every day
Minimum age : 11 year(s)
Maximum age : 17 year(s)
Teenagers are the responsibility of their G.O®s only for the duration of the activities organised specifically for them.
Juniors' Club Med® at Yabuli is proposed only during the Chinese school holidays.

---
* at extra cost